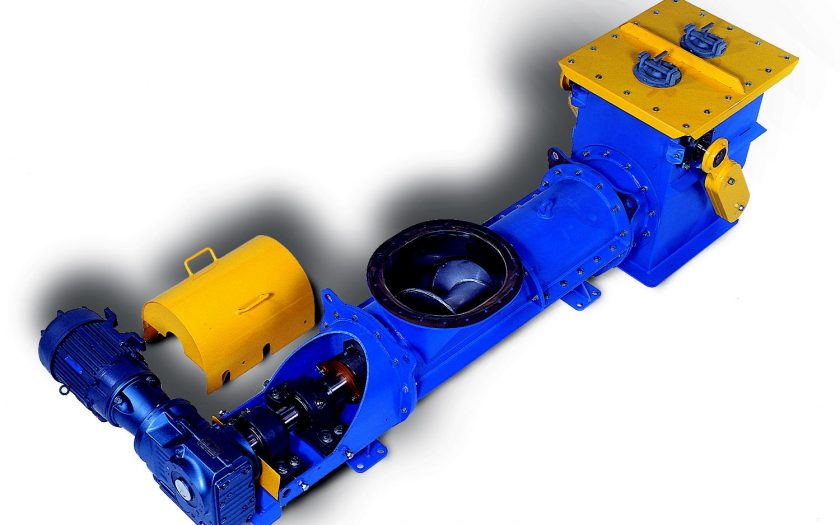 At Lone Star Industries' Cape Girardeau, Missouri cement plant, reliable coal feed to the kiln is crucial for keeping the entire clinker production process on-line.  When their coal supply was interrupted, plant personnel had only 15 minutes to restore feed before the pre-calciner and rotary kiln shut down.
Coal was transferred from outdoor stockpiles to a pulverizing roller mill via a belt conveyor and a triple-gate dump valve located at the mill inlet.  When air leaked into the mill, the pulverized coal was not conveyed away efficiently.  Consequently, poor flowing coal accumulated in the mill and clogged the unit requiring costly downtime.
Since the triple-flap gates were installed, problems resulted in equipment downtime, increased labor costs, and unscheduled plant shutdowns due to coal buildup on the gates and subsequent leakage into the mill.
The Solution
Jenike & Johanson recommended a Solids Pump® pressure-sealing unit to feed the coal with minimal gas leakage between the conveyor belt and roller mill which are at different air pressures.  The Solids Pump® can operate with almost any solid that can be conveyed in a screw conveyor.  It consists of three primary functional components: the inlet/conveying section; the sealing section; and the discharge section.
The inlet section can accept material from an up-stream feeder or conveyor, or in some applications, it can be directly connected to a bin and serve as a feeder.
The sealing section is designed so that the bulk solid being conveyed through the screw forms a plug of sufficient length and density to provide the necessary gas seal without high solids pressures.  Note that not all solids are capable of sealing against a gas pressure gradient.
The discharge section can be designed to break up a cohesive plug and deliver a uniform stream of material to downstream process equipment.  Alternatively, with free flowing materials and some co-current applications, the discharge section is designed to provide stability to the sealing plug.  A weighted gate can be included at the discharge of the Solids Pump® to help the plug to develop during startup and to prevent air leakage when the unit is empty.
The Result
Lone Star installed the 16″ diameter Solids Pump® during an annual plant shutdown without any problems.  Savings in reduced maintenance costs alone paid for the installation of the Solids Pump® within 8 months (return on investment was 115%)!  After one year of operation, Lone Star decided to install a second Solids Pump® to supply coal to another mill. Once again, the equipment quickly paid for itself, and Lone Star continues to benefit from major cost savings.