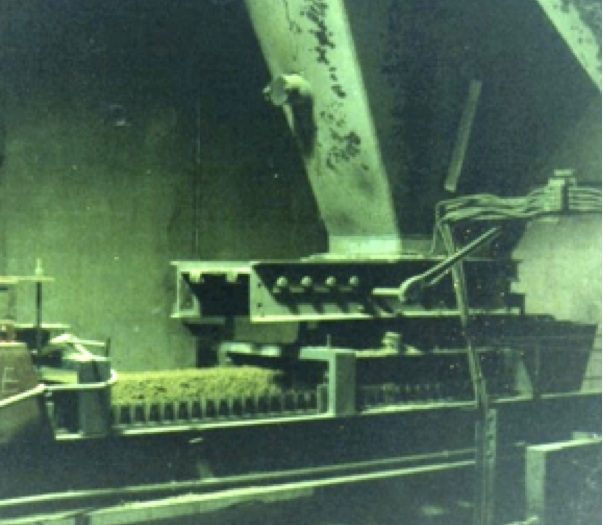 Lafarge's Joppa, Illinois cement plant had experienced severe flow and operational problems with their gypsum bin.  These flow problems significantly impacted productivity, created housekeeping and safety issues, and required the limited available manpower to spend significant time tending to these problems.
Even with attempted modifications over the years, severe flow problems were still being experienced.  The gypsum bin had a number of serious solids handling design flaws.  A large region of stagnant gypsum existed because of the bin's flat bottom design.  This design resulted in a funnel flow pattern. In addition, the conical hoppers were neither steep enough nor smooth enough to ensure reliable gypsum flow.
Samples of natural and synthetic gypsum were provided by Lafarge for flow properties testing to Jenike & Johanson.  Since the gypsum was stored outdoors and thus exposed to the elements, its moisture content periodically approached saturation.  In order to capture worst case handling conditions, sub-samples were tested at moisture contents between 70% and 90% of saturation. The established flow properties would then provide a basis for bin modifications.
The Solution
In order to provide for mass flow, utilize the existing cylinders, and have two independent outlets with feed control, all the existing equipment from the bottom of the cylinder section to the inlet of the mill feed conveyors had to be replaced.
Since multiple outlet mass flow bins present additional problems, it was agreed that a single outlet would be more practical than two independent outlets.  This would eliminate the concern about stagnant regions of material forming within a hopper when one outlet remained unused.
Jenike & Johanson engineers recommended the design of a transition hopper, lined with stainless steel sheet, and the design of the interface between the hopper and belt feeder.   A properly designed interface was needed to ensure uniform withdrawal of material over the entire length of the hopper outlet.
A multiple screw feeder was considered for feeding the gypsum from the hopper, but this approach had drawbacks.  The hopper outlet would have to be considerably shorter to accommodate a screw feeder (due to the limits of an increasing capacity screw design).  To provide a shorter outlet, the hopper would have to be much taller, causing a larger reduction in bin capacity.  In addition, there was concern about being able to handle the large natural gypsum particles (4 to 5 in.) with a screw feeder.
The Result
Lafarge implemented the mass flow technology on one of their gypsum storage bins.  As a result of the Jenike & Johanson recommended modifications, Lafarge has been able to operate this bin reliably while handling both natural and highly cohesive synthetic gypsum. The transition hopper's robustness (due to planar geometry) allows the design to handle varying properties of gypsum.
Based upon the success of this gypsum bin, Lafarge has already started retrofitting other troublesome bins at their plant, which handles cement raw materials.